Thinking of starting your own small business?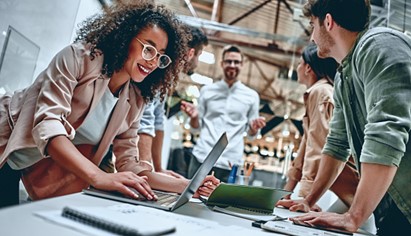 As you contemplate the year ahead, have you been thinking about starting your own small business? When it comes to great business ideas, there's no better time than now to take the plunge.
These days, more and more people are starting their own businesses. What's driving this increase in small business startups?
E-commerce has seen incredible growth due to COVID-19. One reason for this? During the pandemic, more and more consumers did their shopping online. This means it's easier to both buy and sell online, a factor that's beneficial for launching and operating successful businesses.
At the same time, many businesses have had to shut down over the past two years, leaving areas of the market open to new competition. This makes it an ideal time to join the ranks of enterprising entrepreneurs looking to launch their small business ideas as the economy picks up steam again.
Recent business closures have also resulted in a greater available talent pool of employees. This means you will have access to a larger pool of employees as your new business grows.
With so many great small business ideas to choose from, the journey to small business ownership has never looked better. If you have a good idea in hand, now is a great time to become a small business owner.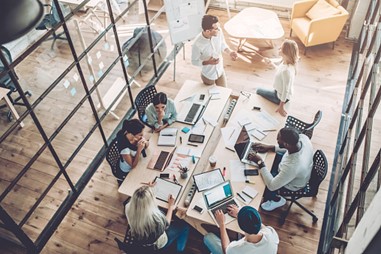 1. Start a Graphic Design Business
Does good design grab your attention? Starting up a graphic design business is one of the best creative small business ideas around. If you're visually oriented, appreciate great design, and know your way around graphic design software such as Photoshop, a graphic design business could be the perfect business startup idea for you. Check out these tips for launching a graphic design business:
Get your first client. Finding your first client is how you can build your portfolio. The following are ways you can land that first client:
Freelance marketplaces. Freelance marketplaces such as Fiverr and Upwork provide platforms that connect freelancers and small businesses with the clients who need their services.
Online Job Boards. Remote work has exploded since the pandemic. These days you can find freelance jobs posted on both remote work boards such as FlexJobs, and more traditional job boards such as Indeed.
Online and Offline Networking. LinkedIn is great for online networking, but don't forget about in-person networking, too. You can search for local networking events or groups through sites like Eventbrite or Meetup, or contact business associations in your area.
Build your website. As a graphic design business, you need a website, even if you only plan to serve local clients. Your website is your business's online home, the place where potential customers can go to find you. Consider it the digital version of your business card.
The business side of things. From bookkeeping to invoicing to marketing, you'll need to set aside time to do the tasks that form the foundation of your small business. And as your business grows, these are also great tasks to outsource, so you can focus on doing the graphic design work you love.
2. Become a Virtual Assistant
Do your friends tell you organizing is your superpower? A virtual assistant business is a type of business that puts your superior planning skills to good use. Entrepreneurs and small business owners everywhere hire virtual assistants to help them stay on top of all their to-dos and keep their businesses running smoothly. Here's what you need to know about starting up a virtual assistant business:
Pay range. The average pay rate for virtual assistants can range anywhere from $20 to $40 per hour. Because you're charging by the hour, how much you make will depend on how many hours you work each day. You can easily make a full-time income by increasing your daily or weekly workload.
Low startup costs. You'll often see virtual assistant businesses topping online lists of great business ideas. One reason for this is the low cost of starting out as a virtual assistant. While you can always invest in more equipment and software in the long-term, all you really need to launch a virtual assistant business is a computer and reliable Internet access.
Flexible time commitment. While you can run your business on a full-time basis, you can also limit the number of clients you take on. Many virtual assistants take advantage of this flexibility to work part-time so they can take on a side hustle like blogging, which we'll discuss next.
3. Find Your Calling and Blog About It
If you're passionate about a hobby or activity, blogging is one of those entrepreneur ideas that let you follow your passion. A blogging business makes for a great side hustle or part-time endeavor. With a blog, you won't be making much money from the start. But blogging has the potential to grow more profitable over time. Here's what you need to know about becoming a blogger:
Startup budget. You won't need a big budget, but there are certain costs you'll need to fund to launch your blogging business. These costs include web hosting fees, which you'll pay either monthly or yearly. Great web design is also important for a blog, which means you may need to have a logo created, and purchase a good blog template.
Choose the right blogging platform. Take the time to check out the pros and cons of various blogging platforms available, such as WordPress or Ghost. It's not impossible to transfer your blog content between platforms, but it's an added frustration that can be avoided by doing some initial research.
Know your audience. As a blogger, you need to give your target audience the information they're looking for. Hang out online in the forums and groups your audience frequents to get ideas for your blog posts. And make sure you present your information in an easy-to-read format: stay away from long paragraphs, and make good use of white space in your posts.
The business of blogging. If you want to earn money with your blog, you need to treat it like a business. Take the time to learn about SEO, or search engine optimization, which will help people find your blog. And look for ways to market your blogging business. For example, you can promote other businesses and ask them to promote you back, either through a mention on their site, or a link.
4. Start a Food Truck Business
Food trucks were popular before the pandemic, and they continue to be popular as we ease our way to a post-pandemic normal. A food truck business offers the up-and-coming chef an opportunity to start a food business without the higher costs associated with a brick-and-mortar restaurant. Here's what you need to know about starting your own food truck business:
Higher hard costs. Operating a food truck business requires more startup funds than the other startup business ideas we've discussed so far. You'll typically need around $70K to $125K to get your food truck business started. Arranging for adequate funding is one of the first things you'll need to do in the startup phase.
Social media savvy. When it comes to running your food truck business, social media platforms are a marketing essential. Because your business is mobile, you can use social media to tell potential customers where and when they can find you on any given day. It's also a great way to announce and run special events or promote new menu items. And for food truck businesses, social media builds trust and drives more traffic than traditional marketing methods.
Off-truck food prep. Yes, your food truck has a kitchen. But it's a good idea to have access to an off-truck location to do as much food prep as possible. Prepping your food on-truck can be challenging. And even worse, it can lead to time delays, which can then result in the loss of potential customers.
5. Launch an Interior Design Business
Most people love the idea of a beautifully decorated home but lack the style sense to get their places looking the way they want. If you have a talent for creating show-stopping interior designs, starting a full-time interior design business lets you put your style sense to good use. Check out the following tips for launching an interior design business:
Know your design style. Customers choose an interior designer based on the designer's style. Review your style so you can use it as your starting point when planning out the services you'll be offering. For example, if you excel at creating an eclectic antiques-based look, you could highlight your ability to source unique vintage furnishings.
Build your portfolio. Every client you take on presents an opportunity to build your portfolio. When you're first starting out, consider offering your interior design services to friends or relatives for free. This way, you can get plenty of "before" and "after" photos to showcase the awesome work you do.
Word of mouth marketing. Not only do you want every client to love your work, you want them to tell their friends about you, too. Word of mouth is a major marketing method for interior design businesses. Take advantage of your clients' love for your work by asking for referrals. You should also invest in good web design, so you have a great website for those referrals to check out. And remember to always keep business cards on hand. As an interior designer, any person you meet could be a potential customer.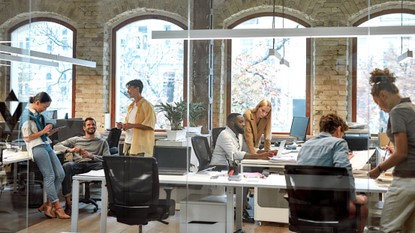 How to Choose a Great Business Idea
As an entrepreneur, it's important to know that up to 40% of small businesses fail in their first year. One of the main reasons for these business failures is not having enough interest or customers to support the new business. Great business ideas, like the ones we discussed above, are high-quality ideas capable of generating enough interest to support long-term success.
You can see if there's enough interest to sustain your business by using the market research methods below. As a bonus, this market research will help you when it comes time to create your business plan. (And if you don't think you need a business plan to succeed? You should think again: a good business plan forms the foundation for most successful businesses.)
Keyword search volume. Using a tool like Google Keyword Planner, check the keywords related to your product or service to see if people are actively searching for these terms. If the search volume for your specific keywords is minimal, it could mean the market for your potential new business is too small.
Listen to the conversation. Hang out online in places frequented by your potential customers, such as forums and Facebook groups. Listen in on conversations to see if people are talking about the problem that your product or service solves. A lack of discussion about the problem might suggest there's not enough interest for a successful business.
Check for competition. Enter your keywords into a search engine like Google to see the extent of the competition you'll be facing. While you don't necessarily want to enter a market with a ton of competition, if there's no competition at all, it's a sign that there might not be enough interest for a successful startup.
What are the Most Profitable Businesses to Start
Once you've determined there's enough of a market for your new business idea, what's next? A new business can have enough interest or customers and still not be profitable. Check your business idea against the following to see if it has the potential to be profitable:
Low overhead or hard costs. A business that doesn't have high startup or ongoing costs has more profit potential. Startup ideas that fall into this category also pose less risk, since you don't stand to lose as much if your new business doesn't take off. If your business idea ticks this box, it might be well worth your commitment.
Low competition, low profit per item, high volume sales. When a business falls within this category, you'll face low competition, but you won't make much per sale. On the flip side, though, you'll be seeing a high volume of sales. A low competition/high volume combo makes up for the smaller profit you're making per item. This higher profit potential positions your startup business for a greater chance at success.
Lower sales volume, higher profit margin. Startup business ideas that fall into this category typically have lower overhead costs. Combined with these lower costs, your higher-ticket items net you a higher profit margin. Despite having a lower volume of sales then, your business is geared for profitability as a result.
Best Startup Business Ideas
Our list of great startup ideas, along with ways for you to determine both the interest in and the potential profitability of your chosen business idea, gives you the tools you'll need to join the growing ranks of successful businesses everywhere. At Small Biz Ahead, we're with you every step of the way. Make sure to sign up for our newsletter for more tips to guide you to small business success.
The Hartford Small Biz Ahead – by Belle Wong (12/20/2021)
https://sba.thehartford.com/business-management/top-startup-business-ideas/